Copyright
Submitted: 25-Jul-2019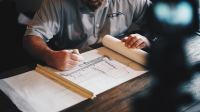 There's a common saying imitation is the sincerest form of flattery. But when it comes to building design, where considerable time and effort has been put in, the last thing you want to see is a replica of your work produced by someone else.
That's why copyright is so important to the building industry. It ensures your rights are protected.
How can you ensure that your designs, drawings and plans are protected? And what can you do to avoid infringing on someone else's designs? We take a look at what you should know when it comes to copyright for architects and building designers.
...
read more